Paul Chan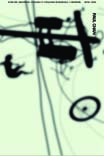 CONTENTS:
Prologue by David Neuman, Magasin 3 and Daniel Birnbaum, Portikus
The 7 Lights by Daniel Birnbaum, associate curator Magasin 3 and director Portikus
A Critical Feverish Dream by Elisabeth Millqvist, assistant curator Magasin 3 Stockholm Konsthall
Exhibition catalogue no 35 64 pages, in color, richly illustrated.
Texts in Swedish/German/English. Published in 2006 by Magasin 3 Stockholm Konsthall and Portikus Frankfurt am Main.
Price: 180 SEK (approx. 18 EUR)
A Critical Feverish Dream by Elisabeth Millqvist
"I prefer to be on my own," was the first thing Paul Chan said when we met in Stockholm in April. He shares this sentiment with Henry Darger and Charles Fourier, the two individuals on whose work he has based his own work – "Happiness (Finally) After 35,000 Years of Civilization (after Henry Darger and Charles Fourier)", a video animation teeming with details and vivid colours, projected on an oblong framed canvas suspended in space.
Henry Darger (1892 – 1973) was a recluse who devoted enormous efforts to an unbelievably extensive illustrated work. His drawings were discovered towards the end of his life, and were probably not intended to bee seen by others. The work comprises 12 bound volumes, a total of 15,000 pages. He also wrote a 5,000-page account of his own life, which mainly concerns an oncoming tornado, and kept a weather diary over ten years. The 15,000-page epic, both written and illustrated by Darger himself, bears the long title The Story of the Vivian Girls, in What is Known as the Realms of the Unreal, of the Glandeco-Angelinnian War Storm, as caused by the Child Slave Rebellion. The super-heroines, the Vivian Girls, are fighting on the side of the children against child slavery. A violent war ensues. Like the Spanish painter Goya's account of the horrors of war, Darger delivers a detailed account of atrocities, how children are strung up, strangled and sometimes disgorged. Except for the enemy, the Glandelians, all the characters are girls. They are always children, sometimes nude, in which case they are depicted with penises. The weather is dramatic in Darger's drawings, hurricanes and earthquakes afflicting the characters. The drawings are rectangular and give a cinematic impression. The figures are copied from photos, advertisements and magazines and reused several times over. The textual material is also partially culled from existing literary sources. Darger's work method is similar to that of many other artists today who employ sampling, detailed imagery and narrative elements.
CHARLES FOURIER (1772 – 1837) had a theory for how social and economic conditions could be arranged to achieve a better world. Fourier saw himself as the discoverer of a law of social psychcology, an observation on a par with Newton's discovery of the law of gravity. He was critical of society where poverty existed, where the family structure was the norm, where production units were on a small scale and the philosophers' theories about mankind too reductionist. Fourier wanted to encourage the right to develop feelings, passions and instincts. No passion is wrong, and repressed passion will only seek an alternative outlet. His ideal social model consisted of what he called phalanstères, communities for up to 2,000 people. He describes a community where work is made attractive by delegating tasks according to the capacity and interests of each individual. The economic structure resembles that of a limited company. The phalanstère would be a non-judgmental society. The extension of women's rights was regarded as vital to social progress, and all members would be guaranteed a social and erotic minimum for a comfortable life (the latter with no monogamous restrictions). In his book Théorie des quatre mouvements et des destinées générales (The Theory of the Four Movements, 1808), Fourier divides the past, the present and the future into four phases, divided into social periods which in turn are divided. Based on the eight periods in history, Fourier deduced that his present time had evolved to the fifth, to civilisation. From civilisation we could take a leap to phase eight – Harmony. The structure of the phalanstère was the method and even the goal for achieving Harmony.
Fourier appears as a visionary whose ideas transcended established practices, but he undermines his own writings with digressions and a constant urge to classify and name things. He strives to encompass everything from character types to sexual inclinations and presents precise calculations based on unclear premises. He describes how children foster themselves and how the stars copulate in eternal love-making. He claims that war is obsolete and that aggression should be channelled into cookery competitions. He has been embraced by many schools who like to see him as an antecedent to Marx, Freud and the surrealists. In one of the most thorough studies of Fourier's works, Jonathan Beecher questions whether Fourier actually wanted people to read him. Beecher points out that Fourier creates obstacles for the reader, typographically and with regard to content, as though attempting to make his own writings inscrutable.
In his video PAUL CHAN portrays an idyllic world with absurd traits. Among the greenery and the flies, unperturbed by the presence of others, people defecate, eat flowers and pleasure themselves. At the start of his work Happiness the sky is bright blue and the verdure spreads to the open horizon. Daisies and orchids sprout before our eyes, we hear giggling, laughter, twittering birds and only women in girlish dresses seem to be present. After acquainting ourselves with this pastoral idyll, we witness a roaring party. The tables are laden, new dishes are brought in continuously and someone swings from the chandelier to the beat of Big Pimpin', a track by the American hip hop star, Jay-Z. At the ensuing orgy there is a ring game accompanied by Bach's Minuet in G, and where the poses are from Matisse's painting The Dance (1909). At dusk, the women's domain is invaded by military forces, academics wearing American mortarboards, and men in suits, who set fire to the buildings. The captured women include figures that are drawn versions of Hans Bellmer's dolls. One figure has two pairs of legs protruding from the same torso. The incomprehensible, mutilated bodies blend into the crowd with their mixture of male and female, innocence and pornography. A naked girl, modelled on Vietnamese Phan Thi Kim Phuc, the girl who ran from the napalm bombs and became an anti-war icon, rushes out of a burning building. In the distance, all the houses in the valley are in flames. A cluster of buildings rises up, a Babel's tower, an image of human sin, with architecture inspired by the Flemish painter Pieter Brueghel's painting with the same title. Other buildings that occur could be from an American catalogue of prefab houses. The vicious battle between the women and the invading men is followed by stillness. In the final sequence of the work we see a solitary tree in full blossom. Girls without clothes run by, the sky is tinted orange-purple by the sunset – a new paradisiacal state has begun.
In interviews Chan often quotes others as a starting point for discussion, as an answer to questions or as reflections. Similarly, he quotes by copying material for his animations. He makes no distinction between 1563, 1972 or 2004, or between fantasy and reality. Regardless of their context, the elements merge. To a soundtrack of references, Chan lets these original thinkers, with their strange and euphoric ideas, illustrate and complement one another. The repetitive and manic is compressed into a work that lasts for 17 minutes and 20 seconds. The association with Fourier opens up entirely new interpretations of Darger's illustrated epic: the sampled collages become a science fiction story. A combined utopia and dystopia, set on another planet. Darger, taken seriously, is boundless, and his hermaphrodite girls could just as well be a thought model that gives new perspectives. In Chan's version, the unspecific gender of Darger's figures can be seen to corroborate the reading of gender as a cultural construct. The girls have grown up and been updated with ethnic diversity, and are used to illustrate Fourier's idea that balance can only be achieved through diversity. Leaning on Fourier's computations, Chan creates not Harmony but Happiness – a word that suggests even more pleasure.
Engels said that Fourier's utopia was the music of the future played on a child's trumpet. Chan says that Happiness is a hallucinatory interpretation of Fourier's calculations, a feverish dream. We add our experiences to our dreams, and a utopian vision requires an opposite pole. Fourier drafted his ideal society and stressed the potential to create a free society by peaceful and voluntary means – a vision engendered in contrast to the French Revolution. Darger created his own reality, a kingdom for children far from the adult world. When Chan portrays and enhances these desperate wishes for a different existence, the story set among flowers, straw hats and uninhibited snogging becomes a fable of our time. In the film the war destroys buildings, people are mutilated and killed, familiar scenes from the news bulletins – what happens in war happens here. In animated form Chan delivers a critique of the imperfections of his own society.
Elisabeth Millqvist, assistant curator Magasin 3 Stockholm Konsthall
(Text from the catalogue Paul Chan, published in conjuction with the exhibitions at Magasin 3 and Portikus, 2006.)